Construction of Al-Khorezmi Town Launched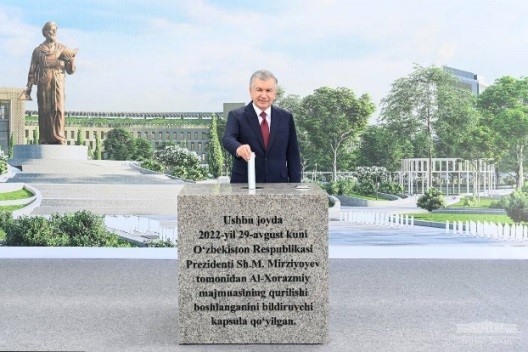 On August 29, President Shavkat Mirziyoyev laid a capsule in the foundation of the Al-Khorezmi town in Urgench.
The President got acquainted with this project during his visit to the region in March of this year and gave instructions on its improvement. Notably, the implementation of the revised project is expected to start these days, on the eve of the Independence Day.
The elderly of Khorezm, women, and young people attended the ceremony. The President spoke to them.
«All achievements of modern science and electronics originate from the unprecedentedly important scientific heritage of our ancestor Al-Khorezmi. We should not only be proud, but also be worthy of it. Therefore, we have decided to create in the city of Urgench a separate town named after the great scientist», the President has said.
The town will be built near the Urgench International Airport, on an area of more than 130 hectares. This picturesque place will be the first thing that will appear before the eyes of passengers getting off the plane. A majestic monument of Al-Khorezmi will be constructed in the center of the town.
A new university named after Al-Khorezmi will also be established here. A specialized school for gifted children will be built at this university. The school`s graduates will continue traditions of our great ancestors in the future, working in scientific, innovative, and cultural centers established in the city.
A technology park and offices, medical and cultural institutions, avenues, schools and kindergartens, sports complexes, parking lots, retail and service facilities will also appear in the town. There will be 104 houses for 5 thousand apartments. The facilities will be equipped with smart technologies.
The President congratulated the builders of the complex on Independence Day and wished them success in their responsible and honorable activities.
---