Implementation of Hydropower Projects Considered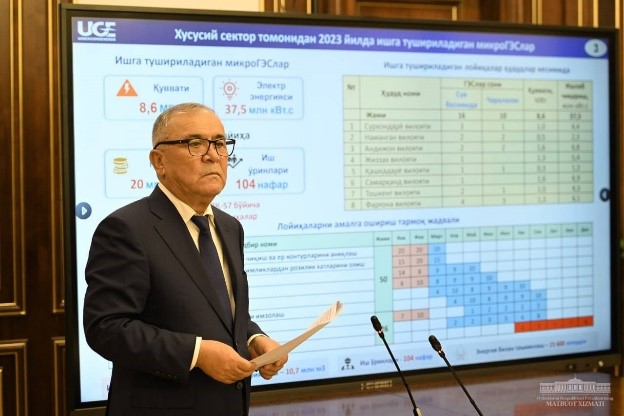 President Shavkat Mirziyoyev held a meeting to discuss the implementation of the tasks set to expand the use of renewable energy sources.
The potential of all energy sources is being used to ensure the energy independence of our country. In particular, a great role in this process belongs to hydroelectric power plants, an important feature of which is that they are able to generate energy consistently around the clock.
Over the past years, 15 new hydroelectric power plants have been put into operation and 12 plants have been modernized, as a result of which 260 megawatts of additional capacity have been created. Currently, the total capacity of hydropower in our country has reached 2.1 thousand megawatts, and hydroelectric power plants produce 6.5 billion kilowatt-hours of electricity annually.
Moreover, it is estimated that the hydropower capacity can be increased by another 1,000 megawatts, and the construction of 58 micro HPPs with a capacity of 38 megawatts is possible with the participation of the private sector.
The report on the ongoing work in this direction has been presented at the meeting. It has been noted that JSC "Uzbekhydroenergo" will produce at least 7 billion kilowatt-hours of electricity this year.
The responsible officials have been instructed to design 36 medium and large hydropower plants on appropriate sections of the Pskem, Naryn and Tupalang rivers. Besides, 26 micro HPPs with the capacity of 9 megawatts will be built with the participation of private sector.
The issues related to the construction of 3 hydropower plants with 23 megawatts capacity on the Great Andijan channel and one hydropower plant with 16 megawatts capacity on the Tupalang River have been discussed.
It is planned to install solar panels with a capacity of 1.7 thousand megawatts on the territories of enterprises, social facilities and residential areas this year. The work in this direction has actively begun in the regions.
In particular, it has been noted at the meeting, that solar panels with a total capacity of 62 megawatts have been installed in the social sector over a short period of time, 23 megawatts have been installed at enterprises, and 20 megawatts - at private households.
Following the meeting, it was stressed that it is necessary to accelerate this work, to support the proposals and initiatives of entrepreneurs on the development of "green" energy.
---