In Uchkurgan began the construction of a hydroelectric power station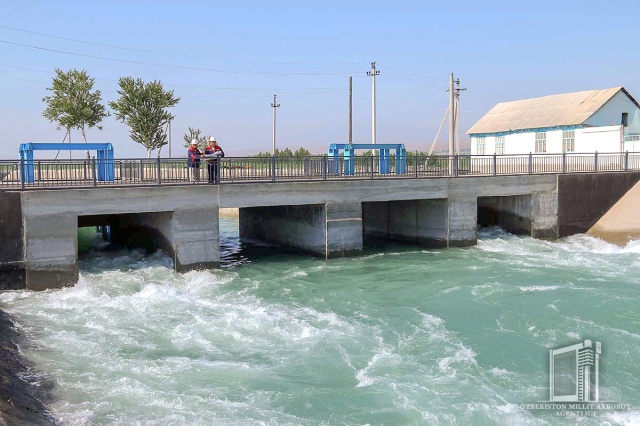 In our country carrying many projects to develop the energy system which serves as an important factor in ensuring economic development and human well-being.
This can be seen on the example of the Turakurgan thermoelectric power station being built in the Namangan region with a capacity of 900 MW and costing 1 billion and 200 million US dollars.
Currently in the region is exploring the development of renewable energy sources.
The Large Fergana Channel flowing through the valley is the largest hydro technical structure in the country. The channel is of great importance for irrigation of 500 thousand hectares of irrigated lands of Uzbekistan, Kyrgyzstan and Tajikistan. Currently, two hydroelectric power stations are being constructed in the canal basin.
President of our country during the trip to the region on July 7, 2017 got acquainted with the projects of the HPS, which will be built on the channel.
According to the decree of the head of our state "On the Program of Measures for the Further Development of Hydropower for 2017-2021yy" dd May 2, 2017 in the Namangan region is envisaged the construction of small hydroelectric power stations with a total capacity of 38.5 MW and a production capacity of 150.8 million kWh of electricity. In particular it is planned to build a cascade of small hydroelectric power stations along the Big Fergana Channel in the territory of the Uchkurgan district.
The builders of Topalang HPD Bulding Ltd which have accumulated considerable experience in the construction of water and energy facilities in cooperation with China have started the construction of a hydroelectric power station in the part of the channel running through the Uchkurgan district.
-"The cost of the project is about 26 million dollars and it will take a special place among the hydrotechnical constructions being built in the country," says O. Djuraev chief engineer of the Ltd. - Each station has a capacity of 6 MW and will generate 72.8 million kWh of electricity per year.
Over the past period 45 billion sums have been completed at the site. Four and a half kilometers of the new channel watercourse was built. Hydroelectric power stations will be built right here. At present the buildings of future stations are being built. At the end of December work on the installation of turbines will end. In the first quarter of next year adjustment works will be conducted and on the event of the Navruz holiday consumers will receive electricity from the new HPSs.
Currently construction sites are organized in two shifts 15 excavators, bulldozers and other equipment and more than 20 vehicles operate day and night.
---