Investment is an important factor in development of the national economy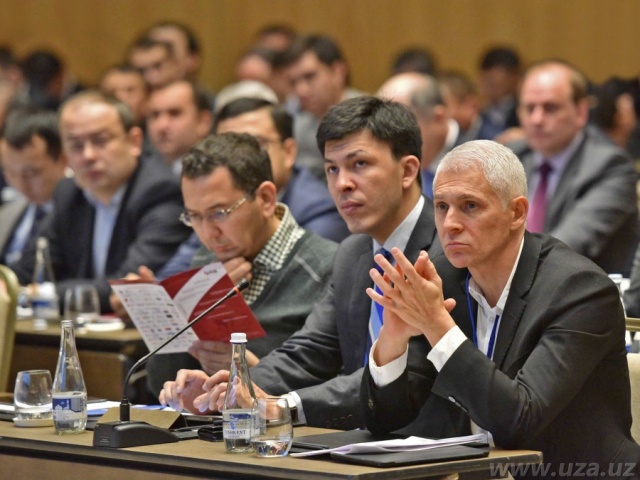 International business forum "FDIUZ" dedicated to attracting foreign direct investment to our country was held at Hyatt Regency Tashkent hotel. 
The event, organized by the State Committee of the Republic of Uzbekistan for Investments jointly with the international organizations "RB Partners" (Russia) and "Globalscope" (Great Britain), was devoted to studying international experience in attracting foreign investments, discussing projects aimed at development of intersectoral cooperation between representatives of business community and increasing investment attractiveness of Uzbekistan. 
Chairman of the State Committee of the Republic of Uzbekistan for Investments A.Akhmedkhodjayev and others noted that within the framework of the Strategy of actions for 2017-2021, large-scale reforms aimed at stimulating the attraction of foreign investments are being carried out in our country. It was emphasized that the targeted investment of financial and other resources of investors, their rational use and the widespread introduction of advanced technologies are important in development of the national economy and support for its integration into the world economy. 
The event was attended by specialists from ministries and departments, leading foreign and domestic experts in the field of investment, economy and law, representatives of scientific research and analytical centers, state and public organizations. An exchange of views took place on such important issues as effective means and opportunities for attracting investors to our country, priority areas for liberalization of the economy for the future. The reports of the heads of international financial association "Globalscope International M&A Association", international companies "Strategy Partners Group", "RB Partners Group&Globalscope", "Islamic Corporation for the Development of Private Sector", dedicated to issues of stimulating investment in state enterprises, mechanisms of state-private partnership, development of a strategic approach to attracting investors, were heard. 
Investment is an important factor in development of the national economy 
Participants of the forum emphasized that activities on informing foreign investors and international financial institutions on favorable investment climate created in Uzbekistan, modernization, technical and technological re-equipment of enterprises has acquired a dynamic pace. 
"Baker McKenzie", which is among the top ten law firms, renders services of the international level on uniting services of companies, conducting contracts of purchase and sale, tax administration in business. The representative of this company Max Gutbrod made a presentation on the best practices in such areas as transferring of business for external management, restructuring the company, increasing the solvency of the enterprise. 
During the event, issues related to supporting small and private entrepreneurship, the role of foreign investment in implementation of projects for the development of social infrastructure, improving the business environment, the process of liberalization of the economy were discussed. 
---