Issues of Energy Supply Improvement Considered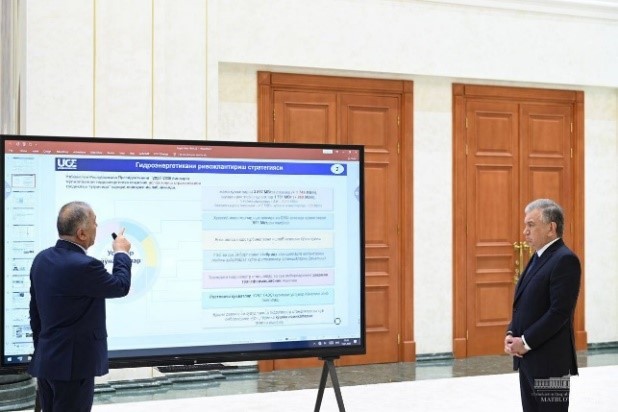 On January 19, President Shavkat Mirziyoyev held a meeting on improving energy supply and got acquainted with the plans for hydropower industry.
All types of energy are being used in developing our country's energy system. New solar, wind and hydroelectric power stations are being built in addition to the expanding existing capacities.
In particular, 27 projects worth $500 million have been implemented in hydropower sector over the past few years, and 260 additional megawatts of generating capacity have been created. Cumulative capacity of stations in «Uzbekhydroenergo» system has exceeded 2 thousand megawatts. It means annual saving of 2 billion cubic meters of natural gas.
7 plants and 10 micro hydroelectric plants with capacity of 197 megawatts are scheduled to be commissioned this year. Besides, the work on implementing 8 perspective projects and constructing 50 micro hydroelectric plants with the capacity of 438 megawatts are set to commence.
The President pointed out the high potential of hydropower sector and instructed to substantially increase its capacities.
To this end, 250 prospective sites for the construction of micro HPPs have been selected. According to calculations, new micro hydroelectric power stations will be able to generate 675 million kilowatt-hours of electricity and save 200 million cubic meters of gas per year.
Due to attractive prices of electricity produced by micro HPPs, the interest of businessmen in this sphere has increased. In this regard, the President mentioned the possibility of selling solar and wind energy at attractive prices.
The task has been set to build hybrid plants (wind- and solar-powered plants) on free sites around hydroelectric power plants. Due to the availability of ready infrastructure, the cost of construction of such plants will be low.
The President also touched upon the issue of localization in the industry. It has been instructed to establish production of equipment for micro HPPs as well as hydroelectric units by JSC «Suvsanoatmash» in Tashkent region.
A particular attention is paid to digitalization of reservoirs management and staff development.
During the meeting, the measures for sustainable provision of the population with energy were discussed. The President stressed the necessity to use all available reserves and avoid disruption in the implementation of new and future projects.
The tasks of increasing daily energy generation in conditions of energy shortage, fair and efficient distribution of resources, systematic delivery of energy to places, and prompt elimination of outages were defined.
---