Nuclear power engineering will develop for peaceful purposes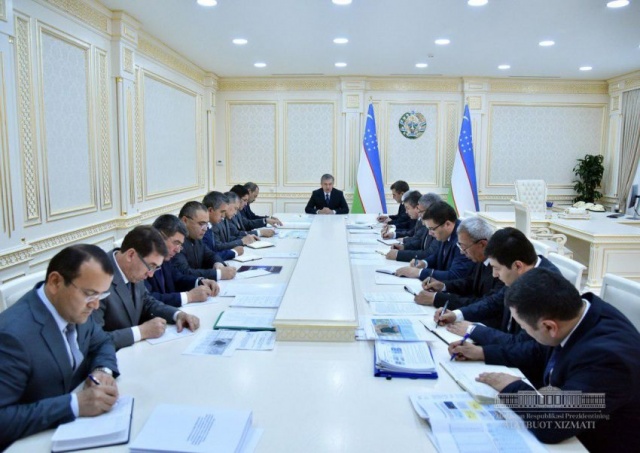 On July 10, the President of the Republic of Uzbekistan Shavkat Mirziyoyev held a meeting dedicated to issues of implementation of organizational and technical measures for creating nuclear power engineering in the country.
At present, the need for electricity in the country is 69 billion kWh. Almost 85 percent of this energy is produced by burning gas and coal, the remaining 15 percent are produced by hydroelectric power plants. 16.5 billion cubic meters of natural gas, 86 thousand tons of fuel oil and 2.3 million tons of coal are consumed for generating electricity. Due to the growth of the economy, the number and standard of living of the population, the need for electricity will increase even more.
"If in this area we continue to use natural gas and coal, after a while their reserves can be depleted. This will be an unpardonable mistake and a crime for the future generation", – Shavkat Mirziyoyev said.
Therefore, work has begun in the country on creating nuclear power engineering for using atomic energy for peaceful purposes. An agreement was reached with the State Atomic Energy Corporation Rosatom on construction of a nuclear power plant. This complex will consist of two power units with a capacity of 1 thousand 200 megawatts each. The safest and modern power unit in the world is allocated for construction of the nuclear power plant. Its commissioning is planned until 2028.
As a result of the launch of the nuclear power plant, 3.7 billion cubic meters of natural gas will be saved. Petrochemical products with high added value will be produced by recycling this source. Even if to export saved gas without refining, $550-600 million a year will flow into Uzbekistan.
Atomic energy is environmentally friendly. Such stations do not form harmful carbon monoxide. As a result, the amount of carbon monoxide released into the atmosphere due to burning natural gas will be reduced by 3 million tons per year.
At the meeting, the organizational, technical and practical work related to construction and operation, ensuring nuclear power plant safety was discussed.
The President gave instructions on studying the experience of developed countries for construction of similar facilities, development of technical conditions for location of the nuclear power plant, qualitative implementation of geological exploration.
The need was noted for creating a normative-legal framework in the country concerning the new sphere, development of a draft Law "On using atomic energy" and corresponding resolution, taking into account their compliance with IAEA requirements and international acts.
"It is necessary to create a new organization at the Cabinet of Ministers in order to coordinate all activities in this direction, prepare documents, carry out design and negotiations. At the same time, it is necessary to form a directorate for construction of a nuclear power plant at this organization. Over time, this directorate will become the operator of nuclear power plant", – the Head of the state said.
As it is known, the most advanced and complex technologies are used in construction and operation of nuclear power plants. And for this, highly qualified specialists with deep knowledge are needed. Therefore, it is planned to open a branch of Moscow Engineering Physics Institute, one of the world's leading educational institutions in the field of physics, in Tashkent.
In addition, instructions were given on selecting potential personnel who graduated from universities in physics and technology, sending them to study and training in universities and nuclear power plants in Moscow and Minsk.
At the meeting, instructions were given on careful development of activities at each stage of the project implementation, strict control over the effectiveness of the work being carried out.
This was reported by the Press Service of the President of the Republic of Uzbekistan.
---